Title: Under the Mistletoe
Author: Annie
Couples: Kyle/Isabel - Alex/Tess - a little bit of Candy love thrown in.
Rating: Teen
Summary: Its the Christmas time in Roswell. The local radio station is holding a holiday contest and there few hearts hanging in the balance. This is a sequel to
The Last to Know
.
Disclaimer: You know that I don't own them. They belong to Melinda Metz, Jason Katims and the rest of the powers that be.
Author's Note: Hey everyone. A big huge thanks goes out to Jbangelo. She won me in the Holiday Author Auction and wanted some In Crowder love. So much fun to write, let me tell you. Plus, she didn't mind the bit of Fifthwheeler action thrown in.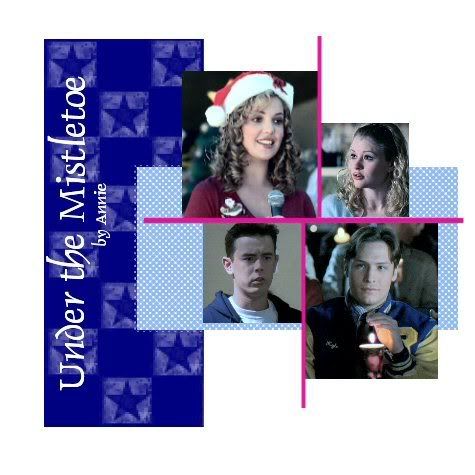 Part One:
Six days before Christmas…
"Wait, wait," Tess protested, half-heartedly. "I was being serious when I said that we had to talk."
"Uh huh." But Alex's lips didn't stop trailing a line of light kisses down her throat.
For a moment, she gave in, not wanting to let anything interrupt this small pleasure. For the past couple of weeks, the only time they had together were these stolen moments sneaking off to the eraser room. Every other time they were in each other's presence, they'd been so careful not to look too long, touch too much, talk too quietly. No, that would have given away the fact that Tess Harding and Alex Whitman were on their way towards becoming a serious couple.
Who would have thought that was in the realm of possibilities?
Tess hadn't. At least, she hadn't consciously. Yet, ever since the night of Alex's Un-birthday party, she'd had dreams, disturbingly clear dreams about Alex and what it might be like to be with him. In the morning when she woke from one of those dreams, she felt equal parts embarrassment and longing.
It didn't help that Alex had been going out of his way to be nice to her. Nearly every other morning, she found him waiting for her by her locker. They'd spent several lunch hours debating the highs and lows of cinema, music, and books. The whole time, Tess had to work extra hard to keep the feelings growing inside her from showing. And she managed, really well, if she did say so herself.
Until the day Alex brought her his favorite comic book, intending to loan it to her because he thought that her education in that area was seriously lacking. The gesture was so sweet, so earnest, that Tess felt her heart go splat right to the ground at her feet. So, she did what any normal girl would have done in the same situation. She burst into tears and ran off.
Alex followed her.
For as long as she lived, Tess would never forget what happened when he caught up with her. All of her feelings for him rushed out of her in a long ramble. God, she'd kept nothing back. Not even her dreams about him. For a second, seeing the stunned expression on his face, Tess thought that she'd ruined everything. Then, he kissed her, right here in the eraser room. They'd been stealing moments in here ever since.
However, she wanted more than a brief kisses here or a quick knowing look there. She wanted be able to walk down the hallway, holding his hand, and know that their friends would be okay with it. She wanted to know that Alex would be okay with that.
She wanted to know that he wasn't ashamed to be with her.
Tess felt Alex's lips make the journey back towards her jaw. She sighed, and used every last bit of her willpower to pull back a bit. "I'm serious, Alex. We need to talk."
His hands stayed at her waist, but he didn't try to pull her back to him.
Finally
, Tess thought.
I've gotten through
.
"What's the matter?" he asked. His head tilted to the side just a bit. She felt his eyes searching her face, as if he hoped to gain some clue about what was going on.
Tess didn't give him time to find one. She simply blurted it out. "I told Kyle about us."
The expression on Alex's face went completely blank for an instant. A second later, confusion rushed in. "Why?"
She would have sighed again, if she thought it would do any good. "Because he asked what was going on with me and I didn't want to lie to him." She stared into his eyes, praying that he would understand. "I don't want to lie to anyone about us anymore."
His grip tightened for a moment as a hint of anger flashed in his eyes. "We aren't lying," he countered.
"Not telling everyone is just as bad," Tess tossed back. "It's like we feel guilty for something we have no reason to feel guilty about. I want our friends to know. I think that they will be okay with it."
"And how did Kyle take it?" Alex asked.
By the tone in his voice, Tess could tell that he wasn't happy with what she'd done. And, when she told him about Kyle's reaction, she knew he would use it as an excuse not to tell their friends about the relationship.
Because he really doesn't want them to know
, she thought.
It took a second to sink in, another to get past the shock, and one last one for her heart to start breaking. All of her suspicions had been confirmed. She was really falling for Alex and he thought of her as a dirty little secret.
This time when Tess took a step back, she moved out of his arms completely. "He wasn't happy," she told him. A knowing looking came over Alex's face.
Tess barely restrained from giving him a smack upside the head.
"Yes, I know," Tess said, her voice rising. "You were right. Someone wasn't happy about us being together. But you were wrong about the reasons why. Kyle was mad that we are keeping it a secret from everyone. I get the feeling that he's worried someone specific."
She watched as Alex blinked, processing the information. "Who? Who is he worried about?"
This time, Tess's restraint failed. She gave him a little bop upside the noggin. "Come on, Alex," she nearly shouted. "Think about it. Who is the only other girl in our group that isn't 'officially' taken? She's the only other girl in our group that you've had a serious relationship with."
"Isabel?" He shook his head. "We're just friends."
"For now," Tess muttered.
"What's that suppose to mean?" Alex demanded.
"It means that I think Kyle believes that you might lead me on while you're waiting for Isabel. Or, maybe he's worried it might be both of us at the same time. I'm not sure." She smiled weakly. "He's really gotten into this big brother-type kick lately. It can be really funny sometimes."
The smile faded. "But I am not so sure he is wrong this time."
Now, Alex did reach for her, but Tess stepped back, holding up her hands to ward him off. "Tess," he said softly. "I'm not waiting for Isabel or anyone else."
Tess reached for the doorknob as the sound of the bell echoed in the hallway outside. "You're waiting for something." She looked over her shoulder at him. "If it's for me to change or for my feelings to change, neither is going to happen."
Though she tried as hard with all of her might to keep them back, one tear slipped back, trailing a little path down her cheek. "I'm crazy about you, Alex, but I'm not going to change who I am. Not when I am just beginning to understand who that is."
With that, she slipped out into the crowd.
~~~~
It was just a case of the holiday blues. At least, that is what Kyle had spent most of lunch trying to convince himself of. If he could find a way to chalk up the gut-deep sense of dread to the impending one-two punch that was Christmas and New Year's, than he would be okay. If not, than he would just have face how pathetic he was.
And if the person listening to the radio over at the next table didn't turn that damn thing down he was chucking it out the nearest window. He just could not take one more happy, cheerful Christmas song brought to you by the people at KROZ.
After all, there was no one that he could use mistletoe on as an excuse to steal a kiss. No one who he could make New Year's plans with. In short, he had no one. He had no reason to be jolly this holiday.
The worst part was that he'd brought this situation on himself. There were prospects, a number of them, as a matter of fact. All he would have to do was pick a phone number and he could fix his current predicament. The kicker was that he didn't want to fix it. Not with a nameless girl and a relationship that would hold no substance.
Not when none of those phone numbers belonged to a certain blond alien.
If only he'd remained clueless about his feelings, than he could have wandered through life blissfully ignorant and carelessly dating anyone who he found slightly appealing. Hell, he would have loved to live that kind of shallow existence. He was born to lead that kind of life.
If it hadn't been for Isabel Evans, it's what he would have done. If he could have just maintained a friendship with her with no deeper feelings involved, he just might have succeeded. But, no, he'd done the unthinkable. He'd fallen head over heels for her. Now, shallow held no appeal for him.
Damn it.
It came as a shock, clear out of the blue, one random day when he least expected it. After helping her put the word out for Alex's Un-Birthday party, he and Isabel hung out a few times. It was completely benign, just two people – okay, one person and one alien hybrid – grabbing a burger here or having a meaningless conversation there. She'd even helped him study for a geometry test he'd been worried about.
That test had been his downfall.
Kyle remembered like it was yesterday. The teacher passed back their papers and his had an A on the top in bright red ink. His first though had been to show it off to Isabel, maybe take her out for a meal as a thank you for all her help, so he'd decided to wait by her locker after last period.
She'd come down the hall wearing jeans and a red sweater. The fact that the first thought that went through his mind was about how great she looked in red should have the warning alarms going off inside of his head. But, they didn't. Instead, he'd showed off his test like an eager puppy trying to please his owner.
Isabel beamed, positively sparkled. Inside his chest, Kyle had felt his heart skip a little beat. Then, she threw her arms around him, giving him a big, congratulatory hug. That's all it took. A smile and a hug, and he'd been sunk.
So, here he was pining for a girl who was pining for his buddy who was snuggling on the DL with the girl he considered to be like a sister. How more screwed up could things get?
"Have you seen Tess?"
Kyle didn't bother rolling his eyes. It wouldn't have done any good. After all, the powers that be seemed to have it out for him, so, of course, they would send the other guy in this truly bizarre equation to bug him.
Yeah, Kyle didn't have to look up to know it was Alex. Only person who was knee deep in muck and sinking by the second would sound like that, the desperation with just a faint hint of panic in his voice.
Too bad Kyle couldn't drum up the energy to care.
No, most of his energy was too busy being concerned for Tess, pining for Isabel, and pondering how to get the hell out of this situation to worry about the feelings of the guy who was in the middle of this sticky situation.
Just when had Whitman become a lothario?
That one completely snuck up out of the blue.
"Just how did you think you would manage it?" Kyle wanted to know.
Alex's eyes stopped scanning the cafeteria. "Manage what? To find Tess? I was hoping massive, wide spreading searching would work."
Shaking his head, Kyle gave up any pretense of eating the holiday surprise concoction on his tray. Not that it was a loss. He had a feeling the cooks just piled all the leftovers from the last couple of weeks into one mixture so they wouldn't have to worry about it over the Christmas break.
"No. I was talking about you trying to juggle two girls, both who I happen to care about, at the same time," Kyle bit out.
A look of complete surprise appeared on Alex's face. Then, he dropped into the seat next to Kyle. "Do you really believe I would do that?" he asked. "Do you think that I would use either one of them like that?"
"Well," Kyle said, holding up one finger. "First, you want to keep your relationship with Tess a secret. Maybe she went along with it at first, but I know she's tired of it now. Otherwise, she wouldn't have told me about you two. And, after what happened this morning…"
Alex cut him off. "She told you about that?"
He nodded and continued. "You really stepped in it this time, Whitman." Then, he lifted another finger to join the first. "Second, you and Isabel have always had this on again, off again thing going on, even before I joined our little club. There's history there, which anyone can see every time the two of you are around each other."
Kyle heard just the faintest hint of jealously in his own voice. He cleared his throat. "Look, buddy of mine, the evidence is there, and it's pretty damaging. Just what was I suppose to think?"
With a loud thump, Alex rested his elbows on the table. Then, he dropped his head into his hands. "I don't know. If the situation had been reversed, I guess I might have come to the same conclusion." With a groan, Alex fisted his hands in his hair. "But it isn't like that, I swear. I'm not leading Isabel on. You don't have to believe me, but it's the truth. We're friends. Hell, she one of the best friends I've ever had. As for Tess," his voice trailed off.
"Yeah, as for Tess, I should give you a good ass whooping," Kyle added. "She cried."
"Oh God." Alex shifted his hands, allowing his head to fall to the table below. "I really screwed up."
Kyle stayed silent for a minute. After all, it wasn't like he disagreed. His friend had screwed up, big time, and it hurt the feelings of someone that Kyle cared deeply about. However, there was just something he had to know. "Why don't you want anyone to know about you guys?"
"It's going to sound selfish," Alex admitted, "but the reason I wanted to keep it a secret was because I wanted to have something just for myself. When it's just Tess and I, there's no pressure, no alien disasters threatening to tear us apart. It's simply normal."
"I get that," Kyle muttered. Didn't he keep the revelation about his feelings for Isabel a secret because he considered it a private thing?
"Tess thinks it's her," Alex continued. "She thinks I don't want the others to know about us because I'm embarrassed or that I'm waiting for Isabel to change her mind about us." His eyes shifted over and Kyle could feel Alex's stare. "She said she got that idea from you. She said that you were worried about Isabel's feelings."
Kyle felt his spine go a little straighter. "Well, yeah. Isabel's a friend of mine. I don't want to see her get hurt."
Alex's eyes narrowed. For a moment, Kyle felt like a science experiment being studied. Then, his friend's eyes went wide. "You like Isabel."
Wincing, Kyle jabbed Alex in the side. "Why don't you try saying it a little louder? I don't think they heard you on the other end of the cafeteria."
"Am I right?"
"No," Kyle denied, but Alex didn't buy it.
"I am right." Now, Alex sat up straight, a little smile on his face. "Well, that's just…"
"Just what, Whitman?" Kyle all but growled.
"Good," Alex said after a minute. "I think it's good. Why wouldn't I? You're my friend. She's my friend. If you two are happy together, than I'm happy for you."
"We're not together," Kyle clarified.
Alex blinked. Then, he nodded. "I see." There was an awkward pause. "Sorry."
"What are you going to do about Tess?" Kyle asked. He hoped the subject changed would shift the focus of his unrequited love.
For a moment, it worked. The expression on Alex's face dropped. "I don't know," he admitted. "I really don't know."
"I'm thinking that groveling is the way to go," Kyle offered. "I've read somewhere girls really like that. Shows sensitivity or something."
Though it was weak, Alex laughed. "I think I'm beyond groveling at this point, but thanks." His face went serious. "So, what are you going to do about Isabel?"
It was in that moment, like a sign from a higher power, that the radio announcer's voice came through the speakers of the radio on the table beside them.
"Have a special someone you want to impress this Christmas, but no ideas what to get them. Well, get creative. E-mail your ideas to the KROZ Creative Christmas Contest and we will pick three finalists from the batch. Those finalists get to act out his or her idea for the KROZ listeners, who will pick the best of the bunch. The winners will win two tickets to the Pierces concert in Las Cruces on New Year's Eve."
There was more dealing with the details, but Kyle's mind had tuned it out. A picture had entered his head, a tiny little perfect fantasy of him offering Isabel the concert tickets. Grateful, she would throw herself into his arms…
"Did you hear that?" Alex asked, breaking through Kyle's thoughts.
"Yeah." Looking over at his friend, Kyle could see the instant that Alex came up with the same idea he had. Two sets of eyes narrowed. "I've got something I need to go do," Kyle said quickly.
He started to get up, even as Alex was doing the same. Within two minutes, both friends were out the door of the cafeteria. Unknown to the two of them, someone else had heard the radio announcement. And that someone's mind was also formulating a plan.