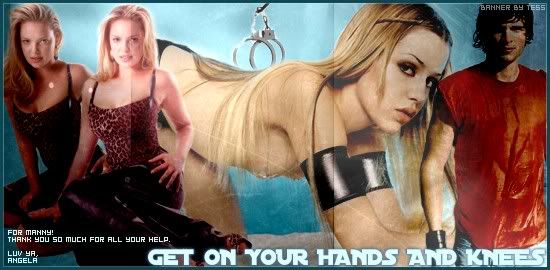 Title: Get on your hands and knee's
Charactors: Maria/Isabelle/Clark Kent (crossover)
Rating: ADULT
Disclaimor: The story is mine, but the charactors sadley, belong to the WB.
Summary: Clark is best friends with Maria, but is secretly in love with her. Maria is bi-sexual, and can't help but have fantasy's about Isabelle. She is totally in love with Clark but neither one of them notice that the other has the same feelings. She doesn't believe that Clark can be a bad boy, he is too innocent. Isabelle has a job to do, and she does it well.
Author Note: This is for my good friend Manny, he is an admin on my site and has helped me out alot, so I want to show my apprectriaciton towards him by writing a story for him. He loves Katherine Heigl and he is a big Smallville fan. So this is for you, I love ya Manny:) This is my first attempt to write smallville, so please be kind.
Author note 2 tess harding made the banner and I love it thankyou.
Part 1.
Maria Deluca has been working at 'The Crashdown' all night long, and is about to get off for the night. When her last table leaves, all she has to do is clean up a little, eat some dinner and go home to bed. She has had a longggg, bad night, and she just wants to wallow herself to sleep.
She has been in love with her best friend 'Clark Kent' ,for the longest time, and she thought that he liked her also, but was to shy to say anything.
But she keeps on seeing him with Isabelle Evans, the girl that she is totally obsessed over. OK, well maybe NOT obsessed, but she has always fantasized about what it would be like to be with, 'Little perfect, gorgeous, sexey, perfecttttt, Princess Isabelle Evans.' Maria loves her also very much, and she can't help but be jealous. There always together now. They were at The Crashdown for a few hours today, just talking, everytime I heard them laugh, I just had a tiny twinge of jealousy.
Ohhh who am I kidding, I was so jealous, that I wanted to go over there and kick them both out. How dare they be together, without me with them. Maria just rolled her eyes, she could not believe that she was so jealous. It was probably nothing to worry about at all.
A half and hour later, Maria just got done cleaning up. There was no one there but there friends 'Lex, Max, Lana and Chloe'. Maria, Clark, Max, and Lex are all good friends. They grew up together and has been best friends since they were in diapers and they always stuck together. Lana and Lex are together. Chloe is obsessed with Clark. Max had a girlfriend named Liz Parker but she moved away a few years ago and he has never forgotten her.
Maria walked into the backroom to get her stuff, and she was starving so she went to the kitchen where her ex boyfriend Michael is. She is still very close with him. His back was to me, so I went over to him and gave him a big hug, of course he new it was me.
"Hey Michael, can you please make me a chicken blt and a cheese fries for all of us, before you put everything away? I'm sorry I don't mean to be any trouble, but I'm starving, I guess I can do it myse…." Maria was cut off.
"Mars, stop babbleling, and of course I'll make you some food, I always do don't I? I don't see why you always ask me and then feel bad for asking me, because you know that I am going to make you some dinner. Infact I was even going to make me something, after all I am a growing alien that gets hungry also." Michael said.
Maria laughed at him. "Thankyou Michael." Maria smiled sadley at him. She turned around and was about to leave, but was turned around again by Michael.
"Whats the matter Mars? And don't you dare say nothing, because I know damn straight that something is wrong, I can see it in your eyes." Michael said seriously.
Maria smiled and said, "Nothing is wrong Michael, honast."
"Maria I know you from outside to inside, I know everything about you, even the size of your breast. I even know that you shave all over and I am not talking about your legs." Michael smirked when she blushed.
Maria laughed and hit him softly on his shoulder. "It's really nothing." She took one look at him and new she had to tell him.
"This is about Clark isn't it?" Michael said sadley.
"Michael I'm sorry. I did not mean to hurt you." Maria said.
Michael shrugged and said, " It's ok Maria, you can't help who you fall in love with, just like I could not help but fall in love with you, and I'd do it all over again if I ever had the chance again, but I know that I never will. So what is up?" Michael asked.
"Why do you want to know Michael? I broke your heart. I left you, the guy that I was with for, for like ever, my first true love, because I had feelings for my best friend." Maria said with tears in her eyes.
"It's ok Mars, I forgave you, yes it did hurt, it hurt so much, that I used to want to die, but I understand, just remember that I will always be here for you. Now please, I want to know what is going on Maria." Michael said.
"I just can't help but be jealous. I love Clark so much and everytime I see him he is with your girlfriend." Maria started but was cut off.
"Maria, Isabelle is not my girlfriend and she never will be. We just fool around. I am not ready for a girlfriend and she does not want a boyfriend, ever. And why are you jealous? Your crazey about both of them, I know it and so does everyone else, just be honast with yourself Maria." Michael replied.
Maria said, "I'm sorry I did not want to hurt you again. Yes it is true that I care for Isabelle also, but she is your…"
Michael cut her off again and said, "Maria you don't get it do you? I don't want anyone but you, and I can not have you, so Isabelle and I use eachother when we need to let loose." Michael took out all of the stuff to make the food and started the food.
"Ya well I can't help but be jealous because I am his best friend and he is always with her, and he tells me everything." Maria said.
"Exactly, he tells you everything, meaning he'd tell you if he wanted Isabelle or not, and obviously he has not told you that, because he is crazey for YOU Maria. Open your damn eyes, he has liked you for as long as I can remember. Why do you think that he used to always say, no he does not want to hang out with us two alone? Because it was uncomfortable for him, to see the women he loves with another man. It is so obvios everyone knows it but the two of you. But you'll see it one day. Now if you'll excuse me I have to finish our food, go out there and pretend to be happy." Michael ordered.
tbc