Registering for the Chat Room Instructions
The first step is that you must be registered for this board. So
if you have not done so already
, then:
1. Go to the following address:
http://www.majiksfanfic.com/phpbb/
2. Once the page loads, select 'Register.'

3. Complete the registration form.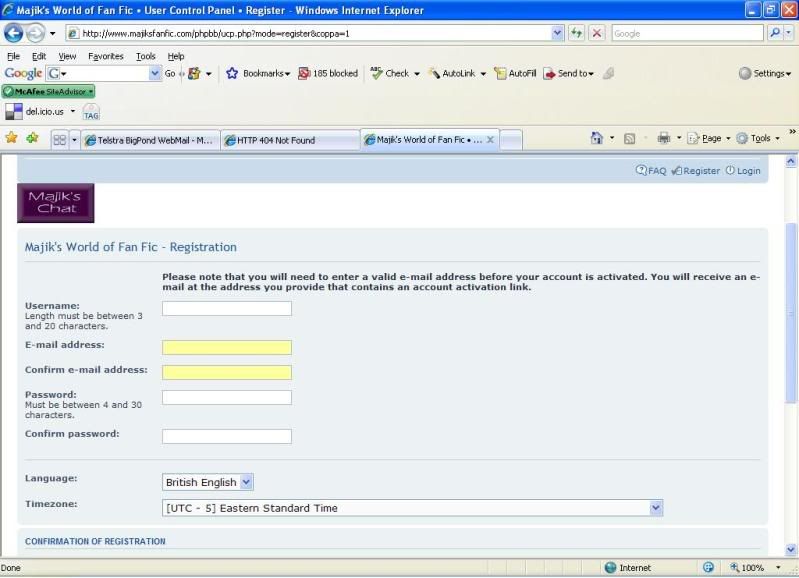 4. Once you've completed the registration process, you should receive a confirmation email from
admin@majiksfanfic.com
with the subject "Welcome to "Majik's World of Fan Fic." Sometimes the email can be sent to your junk mail, so make sure to check there for it. Once you've received the email, click on the link to activate your account. The following screen should display:
5. To enter the chat room, click on the purple button at the top of the screen labeled "Majik's Chat."
Or, you can access the chat directly using the following link:
chat/index.php
6. Enter the username and password you used to register with. Clicking on "Login" logs you into the chat room in the current browser window. Clicking "Popup Login" opens the chat room in a new window.
7. After you log in, select Majik's Chat from the room drop down menu.
Keep in mind - the chat only allows for 50 people in the chat room at a time. So if you are not participating in the chat (or have left your computer) but you see it is getting full in the chat room, please be so kind as to sign out of the chat so that the chat room doesn't crash.
SCREEN SHOTS MADE BY FILO